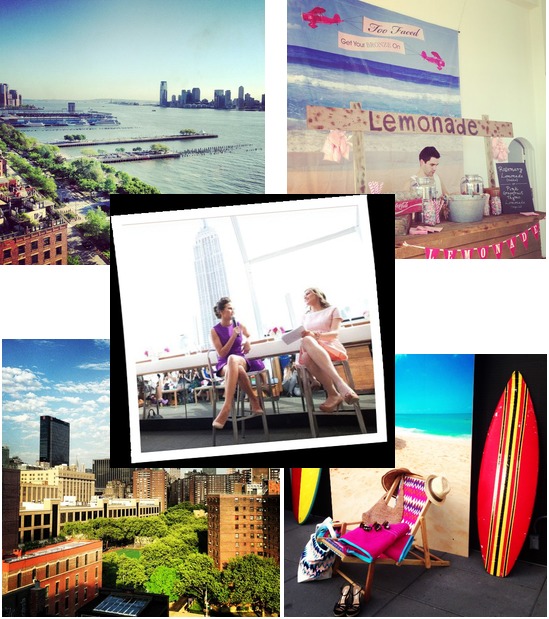 Spring has finally arrived in New York, and so, it's only fitting that this week has been resplite with rooftop events. I'm still on the mend from my broken wrist, so please forgive the abbreviated recap below - words are at a premium these days!
Wednesday evening kicked off as few Wednesdays do - with a shower of sorts for bride-to-be and avid Twitterer Chrissy Teigen. Gillette Venus did up right for their longtime spokeswoman and also successfully kicked off 'shave season' with the introduction of their Gillette Venus & Olay Sugarberry razor. It smells sweet and keeps legs exfoliated and ultra-smooth (it's hard not to be smooth with five blades in the mix), no shave cream required!
Then it was off to the West Village to Too Faced's sweet Summer-themed event, complete with (spiked) Lemonade Stand (seen above) and petite classic summertime treats - think corn dogs and salt water taffy! Of course, Too Faced is best known for easy-to-use and high impact makeup, and the myriad of bronzers in their collection are definite summer essentials - particularly if you're like me and rapid about sun protection.
Last but not least, my friends at MYHABIT kicked off summer and (more importantly), their Swim & Sun-themed events in lifestyle, home, fashion and beauty with a poolside party downtown on the roof of the Hotel Americano. Swanky!
Cheers to gorgeous weather, y'all!