Dec 11, 2019 - Women's Style
How to Wear Your Necklaces as a Bold Statement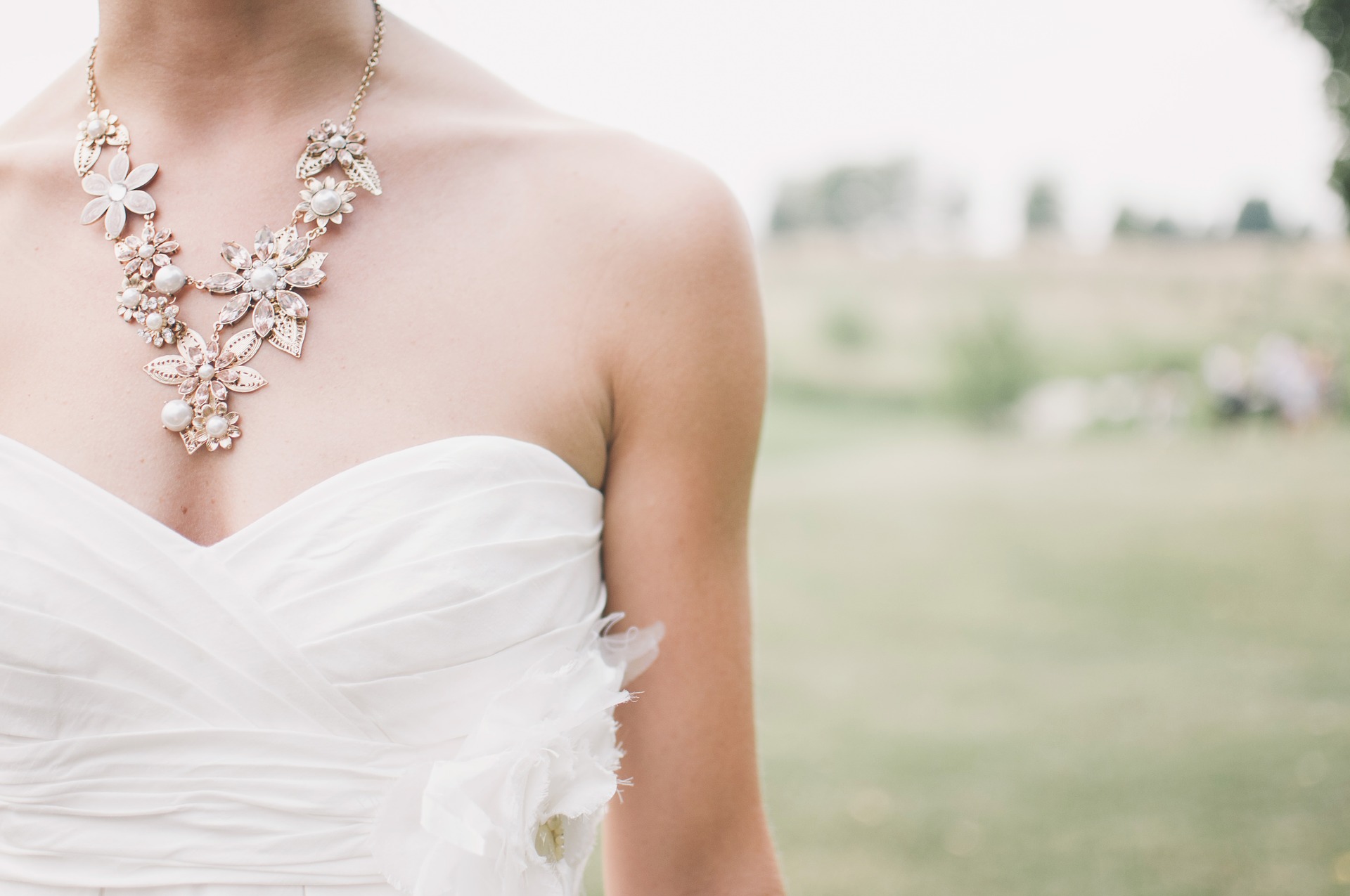 When a person owns pieces of fine jewelry, they want them to be noticed when they are worn. Why would a person spend the money for necklaces and then never wear them or wear them in a way that they are not shown off to good advantage? Making a bold statement with fine jewelry such as necklaces requires a little thought and effort. Choose the correct necklace for the occasion and then pair it with the right clothing to show it off. Don't bother purchasing cheap, poor quality necklaces. It is better to have fewer but better pieces you can be proud to wear.
Choose the Best
Start your jewelry collection by purchasing only high-quality pieces in fine metals such as gold and silver. If stones are used in the design, they should also be of good quality. Enameling is also a nice addition to a necklace design if it is done well. Freshwater pearls can also be lovely additions. The fine materials should be paired with attractive design elements and fine workmanship. The necklace catches should be secure so that they do not come loose causing the jewelry to be lost.
One can go to adinasjewels.com to start a jewelry search. This and other fine jewelry distributors online can offer a wide range of necklace choices. Compare the material quality, designs, and prices between the different sites to find the sites that meet your needs and style choices the best. If there is a special necklace design that is not available online, try local jewelry stores to fill that gap.
When Are The Sales?
Look for special sales at certain times of the year such as March when stores have leftovers from both Christmas and Valentine's Day. Another good time to look is the end of May after tax refunds and Mother's Day rushes are done.
July and August are good sales times because the summer months are slower for retailers because of summer vacations and getting ready for the new school year.
When you settle on a favorite online retailer, subscribe to their mailing list so you get alerted to all the specials.
Take Care of Your Jewelry
Once the jewelry is delivered, take good care of it. This starts with proper storage Storing necklaces in a jumble is the best way to cause damage and breakage that ruins them. Good, safe jewelry storage does not have to be expensive, it just has to be effective. One way to take a tangled mess of jewelry and get it properly stored is to carefully separate all of the pieces and separate them according to types such as necklaces, bracelets, earrings, and pendants.
Next, find good storage containers for each type of jewelry. A compartmentalized jewelry chest might be a good choice for jewelry. Chests can offer multiple layers of dust-free storage. Necklace trees or clear carousels always work well for necklaces.
If there is handy wall space, consider installing hooks or short curtain rods to hold necklaces tangle-free. There are other wall hanging units with a series of hooks lined up in rows to hang necklaces on. These solutions are nice because everything is visible at a glance. Be sure to locate jewelry storage away from direct sunlight which might cause color change or other damage.
Once the jewelry is properly stored it will be easy to access without untangling snarls. The next step is to examine jewelry periodically to see if it needs polishing or repairs.
Know What to Wear The Jewelry with
How do you pair jewelry and clothing for the best effect? Thin jewelry is popular right now. These thin chains and pendants are lovely on their own or grouped. But if they are worn with clothing that is too bold or fussy the whole effect can be lost. Try for clothing that will sit in the background with simple lines and either high or low necklines to help show off the chains and pendants.
A turtle neck, boat neck, or another neckline that is close to the neck or chin will allow thin jewelry to sit on top of it and be seen. Solid colors allow the jewelry to shine and be seen. Grouping several chains and pendants that look well together will be noticed. This is a good settling for longer chains and necklaces also.
The other choice is to wear tops with low or open necklines that allow the necklaces to sit on bare skin where they will show up on a warm background. Wear one favorite necklace for beautiful simplicity or wear a group of three to 5 necklaces of different lengths so they all have a chance to show up. When you wear a group of necklaces, they all need to look good together and be related.
Then, the new trend calls for pairing the thin necklaces with other jewelry types such as multiple rings and bracelets. Now we have to coordinate not only necklaces but rings and bracelets. All that glitter and glow can be really fun or quite impressive depending on the choices of jewelry. But, be careful about how many and which jewelry pieces you pile on. Too much is still too much, and not matching is still not matching. Take the time to get it correct.
When grouping thin necklaces for a dramatic effect, choose pieces that play off each other to multiply the drama. Use some simple chains with necklaces that have charms or pendants on them.
Wear Jewelry Appropriate to the Place and Event
Before piling on the necklaces, consider where you are going and what the occasion is. A funeral does not call for multiple fun pieces, one nice necklace would be better. A job interview calls for a more subdued jewelry display such as one or two simple chains. If you are going somewhere that will require a lot of physical activity like dancing or playing softball, tennis, or golf, less is better. But a party, concert, or celebration dinner are good places to show off multiple thin necklaces. Another good idea is to keep track of the style trends in your group or area.