Dec 13, 2018 - Women's Style
Who started those quirky fashion trends we all followed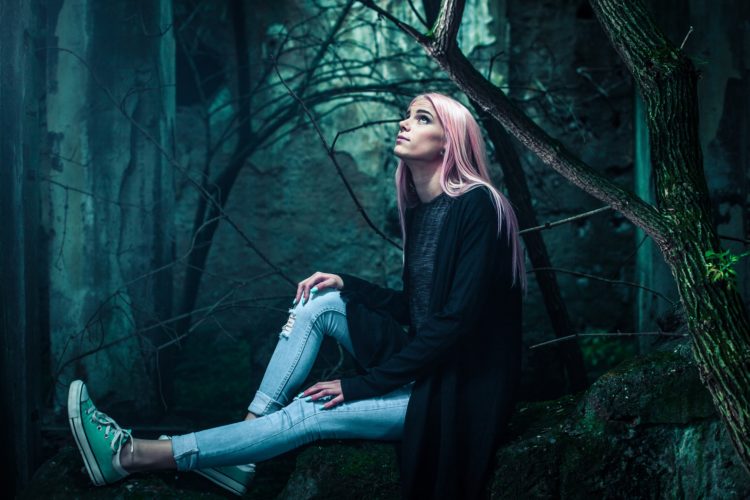 While the vast majority of us are now attached to social media like it is an extension of our body, (no judgements here; social media remembers all those birthdays, so we don't have to!) back in the good old days, we didn't have social media. Which was a blessing because god forbid our double denim outfits or our obsession with over-plucked eyebrows and two-piece tracksuits were ever recorded on the internet.
"Yes Timehop, go ahead and share that photo from the time I was knee-deep in my concealer-lipstick phase," said nobody ever.
Now that our eyebrows have grown back (finally) and our two-piece tracksuits are safely stowed away for house lounging-about (because they were comfy after all), Trilogy, retailers of premium women's straight jeans, at those quirky fashion trends and see who told us all it was a good idea…
Underwear on the outside
No, we're not talking Superman-style, though sit tight, that might yet happen. It was Madonna who made underwear as outerwear famous in the nineties with her cone-shaped corset designed by Jean Paul Gaultier. Thankfully, this garment never met the high street. Lindsay Lohan was also once seen on the catwalk with a black corset top layered over a white shirt — paired with a bootcut jean of course.
Now that it's 2018, obviously we have to wait for a Kardashian to sport anything before it's considered 'cool' to wear. This time, it was wearing a mini-corset over a loose-fitting dress that the celebrity family took to the spotlight in 2018. Other celebrity influencers have also taken on the trend, although they're not as big as some of the trends we've seen.
Corsets are a hard-sell though. They're unforgiving, they're tight, and they're a little brutal on the old lungs. Enter the comfy, slouchy, denim overall trend of yesteryear. A low-maintenance look made famous by the Fresh Prince and other nineties celebs, if you wanted to look uber cool, you'd wear it with one strap undone. Because nothing screamed cool like "I'm too cool to finish fastening my clothes properly". Between this, one-strapping our rucksack, tucking the laces of our Converse in instead of actually tying them, and wearing belts loosely around our jeans instead of threading them through the belt hooks of our jeans (shout out to all the noughties emos), it's a wonder we weren't perpetually tripping over or catching ourselves on door handles.
Oh wait, we were…
Long shorts? Short longs? Or cropped?
The nineties and mid-noughties were all about those cropped trousers. For a jean — pedal pushers were definitely in and they were either denim or a pale pastel shade. This denim trend was rocked by fashionistas at the time including the Spice Girls and Christina Aguilera. It seems this one is coming back around too, with many celebrities sporting their designer cropped jeans – Jennifer Lawrence wore them with heels and a sheer top for Dior's SS17 Paris show and Selena Gomez has been spotted in a pair, teamed with patent loafers and a casual white shirt.
Combat trousers also got the lower few inches lopped off too, because everything needed to be cropped. British girl band, All Saints, was a fan of this fad and rocked cargo pants, crop tops (having your midriff on show in the 90s was compulsory too, apparently) and trainers with the tongue out of the trouser leg. Crop tops resurged back into the high streets in 2018 too, which many a shopper feeling let down and finding a nice top on the rails, only to pull the hanger out and discover half of the top was missing, but for the same price as a full shirt.
For those of us who didn't want to expose our tummies or show off the lower half of our shins, there was the two-piece tracksuit. Everyone in the nineties and early noughties owned a velour Juicy Couture two-piece tracksuit. Even if you thought you didn't, you could open your wardrobe and there it was, hanging in your cupboard. It was Britney Spears, Jennifer Lopez, and Paris Hilton who started this trend off. Britney even had her bridal party dressed in two-piece tracksuits ahead of her wedding to Kevin Federline. Then, they became slightly over-worn by more Z-list celebs and fell off the radar. Along with many Z-list celebs. If you are looking for beautiful wedding dresses including plus size wedding dresses, then make sure to check what options JJ's House has.
Plastic and platforms
To this day, it remains one of the mysteries of the modern world that the government didn't declare platform shoes a health hazard. Nowadays, some playgrounds ban running for fear of injury, but back in the nineties, we were wobbling about on platform shoes and twisting our ankles every other day. Yes, platformed trainers were a big trend, again started by every girl's fashion icons — the Spice Girls. Whether they were white tennis shoes, lace-up boots or sandals, they had to have a huge platform to allow you to stomp around. We've seen this trend return with Rihanna's range of Puma platformed trainers and (for something more alternative) Gucci's rainbow platform metallic sneakers that are currently on sale.
For those of us who were afraid of heights and/or twisted ankles, we had other trends to fall back on. How could we forget jelly shoes? It is thought that they were invented due to a leather shortage during World War II, leading to a French shoemaker creating shoes from plastic. This is one of the trends that has come and gone throughout the years, with a surge of the shoes in 2002 and another rise to popularity in 2009. Even though jelly shoes were about as comfy as shoving your feet in cheese graters. Seriously, they dug in, they rubbed, they made blisters, they left those weird, angry red lines all over. Why did we wear them?
Alas, they'll probably make a comeback again. Fashion trends always do. And, even though nowadays we're spoilt for truly fashionable choices by the likes of Citizens of Humanity and other premium brands, there's bound to be many more fads to come that we'll cringe at before buying into.