Jul 14, 2020 - Men's Style
Top 5 Glamping Destinations in North America and Europe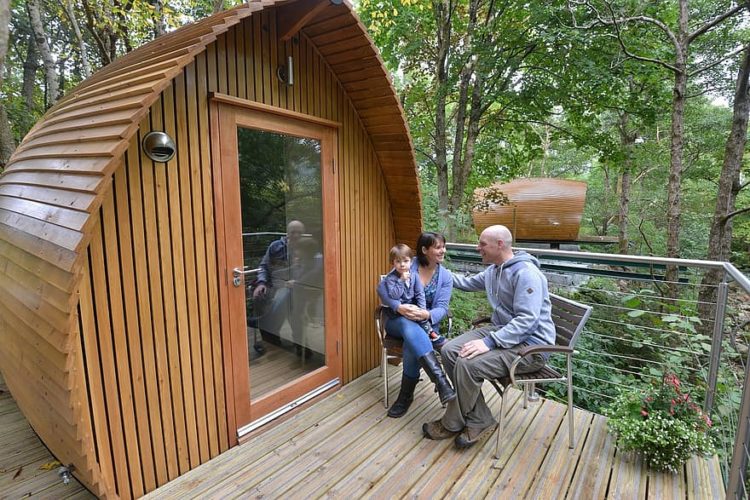 For many of us, the simple idea of camping under the stars is much more attractive than the reality. Heading out into the wilderness with a tent, sleeping mat and all other accoutrements that go with a camping trip often ends up in an uncomfortable night which is blighted by the cold and damp. If this is what usually puts you off from camping, there may just be a more comfortable and luxurious solution in the form of something called 'glamping'.
The word 'glamping' comes from a portmanteau of the words 'glamourous' and 'camping'. As the name suggests, glamping is supposed to offer the same benefits of camping but with none of the drawbacks. Designed to cater to campers with a more refined set of needs, glamping is one of the fastest-growing sectors in the vacation industry. 
In recent years, a wide range of glamping sites equipped with resort-style facilities and ready-made shelters are popping up in Europe and North America. In this post, we take a look at some of the best glamping destinations on both sides of the Atlantic.
Tulum, Quintana Roo, Mexico
The small and tranquil coastal town on Tulum is a world apart from the Spring Break Mecca just a couple of hours to the north. There are a few spots for glamping located in the area. The site is located on a gorgeous stretch of beach, and you can stay in grass-roofed huts that open out onto the ocean. You can also sign up for yoga and meditation sessions to pass the days. 
Goblin Valley, Utah, United States
When you see a photo of Yurt Goblin Valley, you would be forgiven for thinking that it was located on the moon. Red rock outcrops and spires protrude from the arid valley floors – not the best spot for traditional camping, but brilliant for glamping! If you fancy a night out under the desert stars, there are some fantastic options out there. Many of them in this area use stilted semi-permanent yurt constructions, catering more for people who are looking for a minimalist yet cozy experience.
If you are coming from Europe, do not forget to arrange your ESTA visa prior to traveling to gain entry to the United States with no unwelcome hold-ups at the airports.
Bled, Slovenia
Lake Bled in in Slovenia is almost like it was put on this earth to be photographed and put on a postcard. Its aqua blue waters, mountainous backdrop and lakeside medieval castles make it the perfect place to spend a few days unwinding and getting back to nature. Fortunately, if you like the sound of glamping, there are some brilliant options. Many of the glamping facilities around the lake feature semi-permanent tents with beds and furniture that would not look out of place in a luxury hotel.
The visa requirements for visiting Europe are set to change in 2021 with the introduction of the new ETIAS visa exemption scheme. If you want to come to Slovenia or any other country in the Schengen Area, you will need to apply for the visa before you travel.
Swiss Alps, Switzerland

 
There are few more spectacular sights on the planet than watching the sunrise in the morning above the Swiss Alps from the comfort and coziness of your own geodome. If you fancy glamping in the Alps, a little company called Whitepod will be right up your alley. Each of their 15 geodomes is fully equipped against the elements with a wood burner, organic luxury bedding and a full-service bathroom to prevent you from having to venture into the cold at night when nature calls.
British Columbia, Canada

 
British Columbia is a rapidly-emerging glamping hotspot. Miles and miles of prime wilderness characterized by epic lakes, sea inlets and forests have given rise to a large number of companies that specialize in the art of helping campers get back to nature in as luxurious a fashion as possible. Many people love the off-grid, backwoods location of the glamping sites that lend themselves to hiking and kayaking in the natural surroundings. Just be careful that you do not bump into any of the grizzlies that are known to frequent the area!
Colorado Springs, Colorado
Colorado is known for its hiking, skiing, and adventure sports, but what if you wanted to sit down for a nice relaxing weekend camping? Camping itself can be difficult, but if you had the ability to spend a weekend in the woods in a cabin, would you take it? There are plenty of cabins in Colorado Springs and with a bit of a drive you can have your own cabin for a relaxing weekend. You can have a lovely glamping experience with you and your loved ones! 
Glamping has made nature more accessible to people who are not so keen on the rough and ready aspect of camping. There are many great places to do it in Europe and North America, but try those listed above as a start!