Aug 23, 2019 - Men's Style
It's Time to Apply Weekend Bag to Your Style

For some unfathomable reason, there is a form of hillbilly attitude to men and bags. It is sometimes implied that it would be strange and silly for men to be interested in bags. Of course, it is idiotic, and we can jointly hope that those who feel so ahead of men's bags will disappear before they have done too much damage.
The truth is that bags are extremely interesting for men too, and a stylish bag can be just as important for an outfit as the bracelet or watch. Admittedly, it is not common for men to use bags to the same extent as women (think of everyday handbag), to and from work/gym and when it is time to go out and travel. The problem is that in those moments the bag is a natural accessory and not a part of your stylish outlook.
The Right Bag for the Right Style
Let us just clarify something for a moment. Fashion is what you buy, and Style is what made you purchase that. Expensive fine garments are nothing if you do not combine them properly. The same goes for bags.
If you want to find that perfect bag, you must choose a model that complements your style. If you prefer a highly dressed style you should avoid duffel bags. And if you prefer hoodies, sneakers, and jeans, then it is not the suede bag that will fit best.
In the text below, we will walk you through ideas on how to choose the right bag for your particular style. On the other hand, if you need a lifelong stylish leather garment to compliment your office outlook then I highly recommend checking the link below https://imedicileather.com/leather-bags-for-men/men-briefcases.html
Different Types of Weekend Bags
When we talk about weekend bags there are generally 3 types of bags that come to our mind; Duffel, Classic, and Canvas. What they all have in common is that they accommodate enough style for Madrid's amazing bachelor parties but are small enough to carry all the things that you need for a ten-day vacation. As it is with everything, they all have their ups and downs and in the end, your style will define the final decision.
Duffle
The name duffel comes from the city of Duffel in Belgium where the bag first started to be manufactured. Today they are manufactured all over the world but the name has remained. Stylistically, the thick fabric and all the leather details are what is significant for a duffel bag.
Classic Weekend Bag in Leather or Suede
When someone says "weekend bag" it is usually this kind of bag that first pops in your mind. It's a stylish and functional bag in leather or suede. Most often it consists of the main compartment plus a smaller side compartment. A good weekend bag should have at least 2-3 compartments inside the main compartment so that you can easily sort your packing reasonably well.
Canvas
In terms of material, there is no difference between what you call a canvas bag and a duffel. Both are made in the rough canvas fabric and both have some leather details on them. However, what is different is the shape. The duffel is puffy and more elongated, while the canvas bag is taller, shorter and holds the shape in a completely different way. Some canvas bags are very similar to portfolios in the shape.
What Kind of Weekend Bag Is Right for Me?
The combination of garments and accessories is what makes an outfit fantastic or horrible. As we mentioned before, you can have the most luxurious clothes in the world but if you combine them completely wrong you will look terrible.
Here are our recommendations for the type of bag that fits the 3 most common clothing styles.
Dressed Style
Dressed style requires a dressed bag… Do you prefer to wear suits, monk strap shoes and always choose a shirt before a t-shirt? Then I think we can call your style dressy. And probably a classic weekend bag works best for you (you can get away with a canvas in some situations). Also, you can always choose to wear a safer option with a dark brown or black bag in either suede or leather.
Smart casual
All kinds of bags work for the versatile "smart casual" style. Think a lot of jackets but with a lot of converse shoes. You know how to combine clothes to get that outfit that looks stylish, yet relaxed.
If you feel like preferring smart casual outlook then all three bags will work just fine, just pick and enjoy. But keep in mind that you still have to combine materials, color and dressiness correctly, otherwise it won't be smart casual, but just the 90's.
Casual / Sports
Run in the super relaxed style with hoodies, sneakers and some jeans. Yes, it is, without doubt, the duffel that suits you best. But even canvas will do well. However, you should avoid the classic in leather or suede, it will probably just look misplaced.
In Conclusion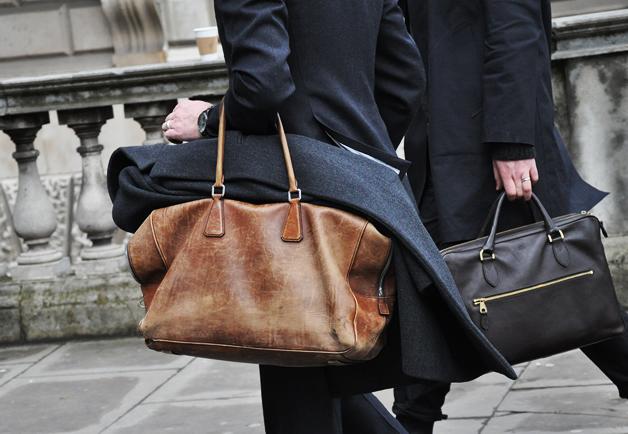 Here are some short style tips for those who have a hard time choosing which weekend bag to invest in.
Suede is a little less dressed than pure leather, but it can also give you extra style points
What color is on most of your leather products? (Belts, shoes, watch bracelets.) If the majority are brown you should bet on a brown bag, if they are black then you obviously go for the black.
In terms of class, the scale is " Leather -> Suede -> Canvas -> Duffel "
If you like to travel, it's worth investing in a weekend bag. It will age in style and you will love it more in 10 years than now